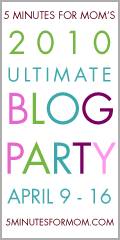 Welcome to my blog! I love the Ultimate Blog Party. I was part of it last year and had a blast finding new blogs. My name is Sara, or Sassy to my close friends, and I'm a SAHM to two wonderful children, my son is 5, and my daughter is 3.
I started my blog about a year and a half ago as a way to keep track of my goals and ideas for saving money. I would always hear a money saving tip that I loved, would write it on a peice of paper, then loose the paper. This way all my fave tips are in one spot. Same thing would happen with my personal goals once I put them on paper, so now they're just all here on my blog.
I also like to use this blog to post about great deals I find, like coupons, great deals I found while shopping, freebies, and so much more. I LOVE to save money. I get such a rush when I save money by hunting for a great deal. I especially love getting things for free-free coupons, free samples, free things around town!
Sometimes I'll also post other things that are important to me, like going green, fun activites for kids, and just updates about my like.
If you are interested, follow my blog, or follow me on twitter! Anyway, thanks for stopping by and happy blog hopping!